Hampers & Gift Baskets Range.
Welcome to award winning iGiftFruitHampers.com.au, luxury hampers delivered worldwide since 2014. Beautifully designed gift hampers from $69 with free Australian delivery. Find the ideal present from one of the largest online hamper ranges in Australia with gift hampers, gift baskets & food gifts suitable for all occasions.
All our Australian food hampers are made by us by our in-house hamper creation team, unlike many of our competitors. Buy luxurious honey, chocolate, wine and alcohol free hampers from igiftfruithampers.com.au today and choose from free next day delivery or delivered free on a day of your choice.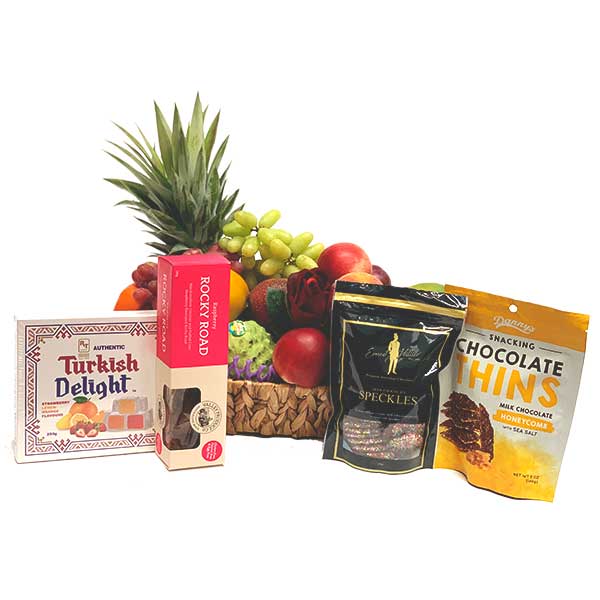 What goes into a hamper? Each one of our hampers are hand packed using the finest gourmet food and/or drink contents from small artisan producers, larger household brands and from international food producer, and will vary from fresh produce such as honey, chocolates and fruit to nonperishable long life foods such as biscuits, popcorn, crackers and canned fruits. Drinks wise there are two options, alcoholic drink such as wine, Champagne, beer, gin and spirits. Nonalcoholic drinks include pressed, juices and lemonade. Occasionally other nonfood items can be found in the hamper, these include teddies, scarves, balloons & wine glasses.
What are hampers in Australia? In Australia hampers are defined as a collection of food & drink items usually presented as gifts in a box, sometimes including a wicker basket. In many countries around the world, hampers are called gift baskets or food gift basket, these gifts are exactly the same as a hamper, just a different name, but the delicious food and drink contents are just the same as Australia. The packaging of the gift hamper can also vary from an open basket, gif tray, giftbox or in a traditional wicker basket.
Free Delivery Hampers Australia.
iGift Fruit Hampers supplies hampers packed with delicious food and drink delivered to all addresses in the Australia with free next day delivery available to most Australian destinations. We make the hampers ourselves in our Sydney hamper creation center using only the finest, freshest food available worldwide unlike many other hamper retailers and department stores who sell hampers made by other hamper companies.
You can send our food gift baskets and luxury hampers all over the Australia and a gift hamper is a fantastic way of showing someone special how much you care, whatever the occasion. iGiftfruithampers.com.au has spent years creating the very best gifts to send to the whole family, friends and for businesses.
Special Occasions Gift Baskets.
Explore our gift baskets range now and find the perfect luxury gift hamper for male and female recipients alike with our selection of scrumptious food and indulgent wine, beer and nonalcoholic choices for men and woman and see why igift hampers is perfect place for gift ideas and inspiration.
We source only the best freshest food and tastiest drink to go into each of our gourmet hampers. For seasonal hampers that are perfect as gifts for special occasions throughout the year, have a wide selection of Hampers For Mother's Day, Valentine Hampers, Easter Gift Baskets and Father's Day Gift Hampers.
Finding the right Christmas gift for a family member, friend or work colleague can be a difficult task but we can we help. We have created a luxury hampers Christmas range that are packed with delicious festive treats, perfect for enjoying with family over the holidays and sending as gifts in Australia or as presents Worldwide.
Our gifts baskets are shipped to destinations all over the world with iGiftfruithampers.com.au fast express delivery service. From Sydney, Melbourne, Canberra, Brisbane, Gold Coast, Newcastle and beyond, we ship and export high-quality gift hampers to loved ones overseas with our express worldwide delivery service, delivered in just a few days.
All our gourmet food hampers include local and international sourced foods. From artisan food companies to larger recognized food brands there is food and drink hampers for all tastes and budgets. iGiftfruithampers.com.au also cater for many dietary and religious food requirements with a range of gluten free, vegetarian and alcohol free hampers.
With luxury hampers available all year round and with a starting price of just $69, you'll always know where to buy cheap, value, well priced and bargain gif hampers for all budgets and for all occasions. Occasionally we discount our hampers and send a special offer promotion to you, so to make sure you don't miss out on saving money, make sure you subscribe to our emails.
Some great ideas for occasions to send your hamper to family and friends as well as corporate clients and staff gifts, are as a birthday hamper, retirement gift basket, get well soon hampers, thank you presents and more.
Recent Posts
SYMPATHY GIFTS OF COMFORT & SUPPORTDuring this time of remembrance send sympathy gifts of love and c …

Hampers Australia – Gift Baskets Delivered At iGiftCreate your own.Are you looking for gift baskets …

Chocolate Gift Hampers.Not all Sydney gift hampers are created equal, and at iGift, we pride ourselv …