The holidays are approaching, so we're here to tell you once again why you can settle on gift boxes for your gift-giving needs. Before you ask, yes, there are definitely many options that can blow minds. Don't believe us? Well, you better read on and explore why gift boxes will make fantastic presents for the festive season and beyond.
The Beauty of a Gift Box as a Present
Why choose a gift box as a present? Isn't it considered tacky to just send an assortment of random things to your recipient? Absolutely not. There are platforms like iGift that present some of the most tailored selections for presents and gift boxes that highlight the beauty of the present. So why do they make such practical gifts?
Well, if you're using a shop like iGift, the whole shopping experience is effortless. You can buy gifts and boxes online that flat pack and are easy to ship through Australia Post Australia wide, saving time and cost. The gift baskets feature high-quality goods, protected by tissues papers - and even gift wrapping if you want it.
So, why wouldn't you want a gift box to give as a present? The right ones pack everything your recipient could ever want, and some platforms harbour a selection that touches on everyone's tastes and trends. As a matter of fact, we've chosen some of our absolute favourites to give you some ideas.
The Questions to Ask When Finding Your Perfect Gift Box
We know it can be overwhelming to find a starting point when there's so much choice available. That's why we're here to help! When searching for the ideal gift box, you can ask yourself a few questions about who is receiving it and their tastes. We outline a few things to raise below:
What do they do in their free time?
What's their favourite food and drink?
Is there a special or memorable event unique to them around the corner?
Are they a fan of the finer things in life?
What kind of items are they intrigued by when shopping?
Do they like things that get everybody involved?
Now you've got the answers, let's move on to the presents!
Discover 21 Gift-Boxes That Cater to All Your Gift-Giving Needs
Are you looking for small gift boxes to say thanks? Maybe some large gift boxes to mark milestones in your relationship? There are gift boxes for every occasion! iGift offers an incredible array of choices, but we've narrowed down our preferred choices - tried, tested, and proven to be adored by all. Discover 21 of our favourites below.
iGift Fruit Gift Box is the optimum gift for every occasion. The fruit basket includes all seasonal fruits like Cantaloupe, Peaches, Grapes and Bananas. The presentation is eye-catchy with its sleek black overcoat to make it an elegant and sophisticated presentation. This gift basket comes with a unique box, beautifully gift wrapped by satin ribbon, making your gift valuable in itself.
This gift box sits high on our list because we can't fathom how adorable it is. The Funky Monkey Gift Hamper includes a super soft snuggle funky monkey toy cradled by colourful seasonal fruits and a decorative wooden box. It's almost as this cute tiny primate travelled all the way from the jungle to receive the everlasting love of its recipient.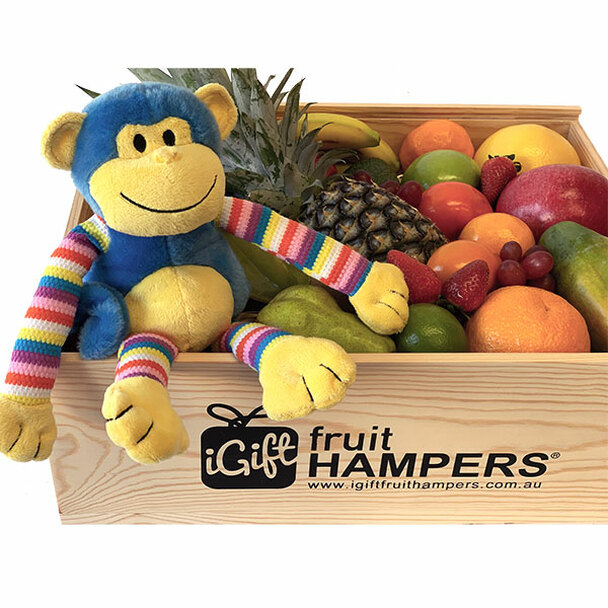 On the subject of animals, the Troy the Sheep gift box certainly doesn't go amiss either! He is made with grey and white fleece on the outside and lined with soft fabrics. He is perfect for naps, cuddles or even as a desk mascot! He also comes in a vibrant nest of seasonal fruits if you ever want to enjoy snack time with a sheep.
This Fruity Chocoholic gift set is the best way to spread some cheer, giving a contemporary twist on an old favourite. Classic milk chocolate bars from every corner of the world are arranged in a gift basket with decorative Ferrero Roches and traditional. Perfect for any occasion, this chocolate fruit arrangement makes an excellent gift for anyone with a sweet tooth!
Our holiday gift sets are carefully selected to offer a variety of choices perfect for whatever occasion. The Christmas tower captures the spirit of Christmas in size, visual aesthetic, and deliciousness. Whether you're gifting in celebration of the holidays or showing appreciation for someone close to your heart, the Christmas Tower is sure to exceed expectations with its elegance and decadence. It's undoubtedly one of the most popular Christmas hampers at iGift!
These unprecedented times make it tricky to accommodate our loved ones. If they are facing some turbulent times - make someone's day and send them a care package. The Get Well Soon Care Package is the perfect gift for your pal, loved one or friend. It might be emotional support for a sick family member. Maybe something to keep someone fed on winter break? Or perhaps just a care package with yummy snacks to get her through finals. Or just some fun surprises that'll add cheer to their week—an iGift Get Well Soon Care Package will brighten the day of whoever you send it to!
Some gift boxes just need to ooze the celebration. The Moet Bucket A modern unique champagne bucket with a bottle of Moet Champagne littered with Ferrero Rocher chocolates. This unique colourful champagne bucket will last a lifetime and is sure to impress your guests with its sleek design. What better gift box to get a party started?
Sometimes the plainest gift boxes are the most effective. Bring back the homey atmosphere and nostalgic tastes with traditional flavours of classic biscuit recipes complemented with the sweetness of Australia's seasonal fruits. There's even a set of teas inside to host a serene and cosy get together! It's home packed into a little comforting gift box.
Even men like to pamper themselves! The L'Occitane Discovery Gift Pouch is the most magnificent gift box they could ask for, offering a series of luxury toiletries to keep skin refreshed and moisturized. Of course, not forgetting all the shower gels, shampoos, and aftershave balms. The kit contains all the tools you need to get through life with elegance and finesse. Don't leave home without the equipment that has it all!
The Calypso Mango Gift Boxes are fresh, ready to eat and sourced locally. Each Mango fruit is handpicked for perfection, ensuring its recipient receives a burst of fruity flavour with each bite. We make sure every box is optimally designed for each kind of product we handle with special care. It may be ever so slightly odd to think of a gift box that only contains mangoes. But trust us - there are hidden mango lovers out there that would love it!
Do you know someone that can't get enough of Lavender? Well, it would appear we've found the ideal gift box for them. Honestly, we adore the smells, aromas, and aesthetics behind the products and absolutely love this L'Occitane Lavender Gift Set. The Lavender Lovers Set combines lavender essentials: hand cream, hand wash, and soap.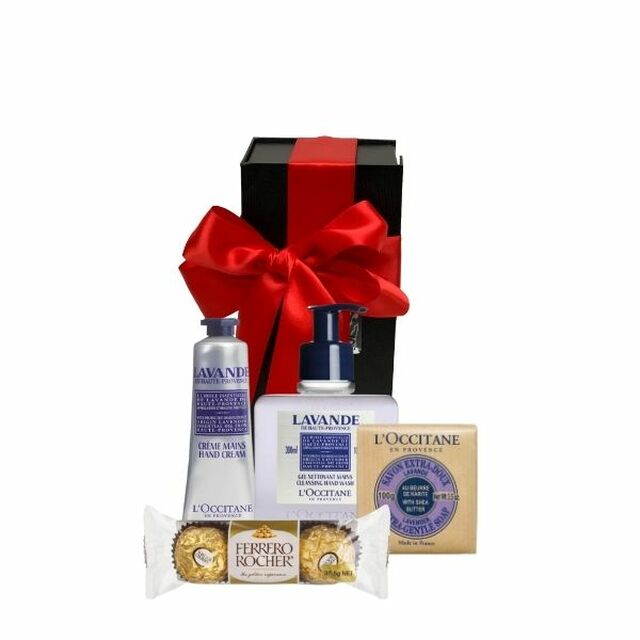 When our friends and family start introducing their little ones to the world, you'll want to be the first to welcome them. The New Baby Hamper is similar to the Funky Monkey. Still, something is endearing about the pink colouring of the soft friend inside. We guarantee the new happy parents will be just as thrilled about the gift as you are! This is a magnificent present for baby showers.
The Picnic Hamper for Two may be an unconventional gift box as there's no food or drink in it. However, this is one of the most practical gifts you could send someone. We're all yearning to get back out and celebrate the excellent weather under a shelter of normality. This picnic hamper gives you all the tools you need to take your divine meals with you.
The iconic pyramid of the Ferrero Rocher is turned into a jaw-dropping centrepiece in the form of a fruit tower. We'll argue that on some occasions - size does matter! This colossal gift set features 3 stacked boxes breaming with seasonal fruits and Ferrero Rocher chocolates, all beautifully arranged to be as striking as possible for the recipient.
There's a time and place to crack out old Jonnie, and that's usually a celebration. And where there's a party - there are gifts. Bring a gift basket that's well suited to men over the age of 18 - the Jonnie Walker Men's Pamper Hamper. Find luxurious aged whiskey inside along with self-care products such as a pouch chock full of men's toiletries. It's the ultimate solution to male gift-giving.
There's something about raw honey that brings joy. Perhaps is because it connects us to nature and makes us feel reinvigorated? The Raw Honey Gift Tower uses only the highest-quality pure raw honey in their gift boxes. They're surrounded by all the complementing goodies like traditional fruits and Ferrero Rocher chocolates.
Mr Teddy sits on the throne of this towering gift set. However, as regal as he tries to be, you'll just want to squeeze and cuddle him. It's a lasting gift that brings comfort and happiness to mothers and fathers day after day. These stylish soft teddy bears have been designed with both parents and baby in mind, including a lovely teddy and plenty of delicious treats.
Let's face it, we all like a night to ourselves from time to time. Don't worry; others do, too! The Verbena Gift Hamper features self-care items that translate seamlessly into the big night in. Find bath salts, candles, chocolates, and a lovely bottle of Chandon Brut Rose. The recipient couldn't ask for a better gift than some rest and relaxation.
Do you have any friends that celebrate Rosh Hashana? Maybe you know someone that enjoys kosher delights? The Jewish New Year Gift set includes gorgeous treats tailored to the occasion. Present your friends, family, and colleagues with a unique gift box that draws in the festivities.
A gift set for the beautiful people who enjoy the delicacies of life. The Cherry Blossom Gift Hamper delivers the scents of spring, packed with refreshing soaps, hand washes, and hand creams. There are even some cheeky little chocolates to enjoy. At the same time, you bask in the sweet aromas of the serene cherry blossom smells.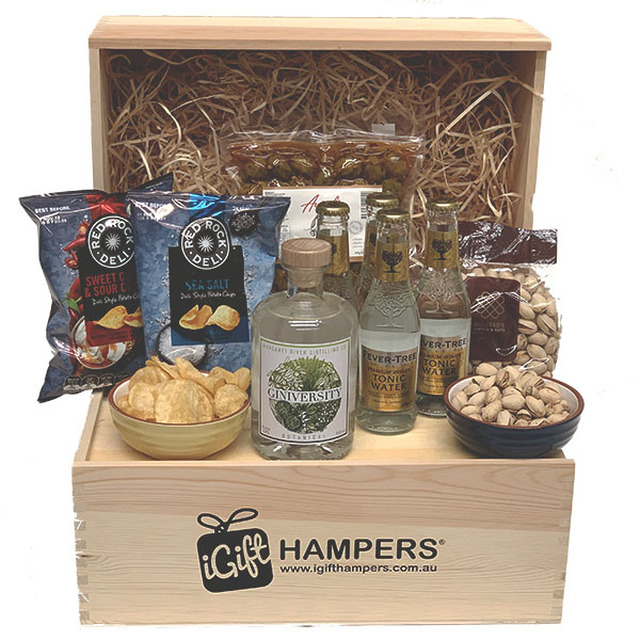 Gin is all the rage right now. It only makes sense to wrap up our list with a gin party in a box. These gift hampers have been wildly popular as it's all you need to create a gin tasting right there and now. The extraordinary University bottle, elegant tonics, and complimentary snacks provide the resources you need for an impromptu gin party. It's quite an astounding gift box for your lucky recipient!
iGift Helps Get These Gift Boxes Signed, Sealed, Delivered - Then Yours!
You've probably noticed by now that iGift is the ideal platform to find your perfect gift box. The service, speed, efficiency, and beautiful inventory behind them is why they are Australia's number one gift-giving platform. So, if you've decided on a gift box as a gift, browse their collections if you can't find something here. We're sure there's one for your recipient - or you can even customize it if you like!
Nevertheless, we hope this guide will serve you well in sourcing the most mind-blowing gift boxes for your friends, family, and colleagues. Happy gifting!
Recent Posts
Baby Gift Ideas - New Baby Boy and Girl GiftsAre you struggling to find the best gift to give expect …

iGift HampersiGift Fruit Hampers is a gifting company that specializes in delivering themed gift ham …

The holidays are approaching, so we're here to tell you once again why you can settle on gift boxes …