Get Rid of the Gift-Giving Stress This Christmas with Gorgeous Christmas Gift Hampers
It's the loveliest time of the year again - but you know what that means. We must think about getting gifts for every significant person in our lives, which ultimately leads to a stressful shopping season. iGift began by giving our guests a one-stop-shop to solve their Christmas needs with heart-warming and pampering gifts. More importantly, to rid of that holiday stress so you can enjoy the season more!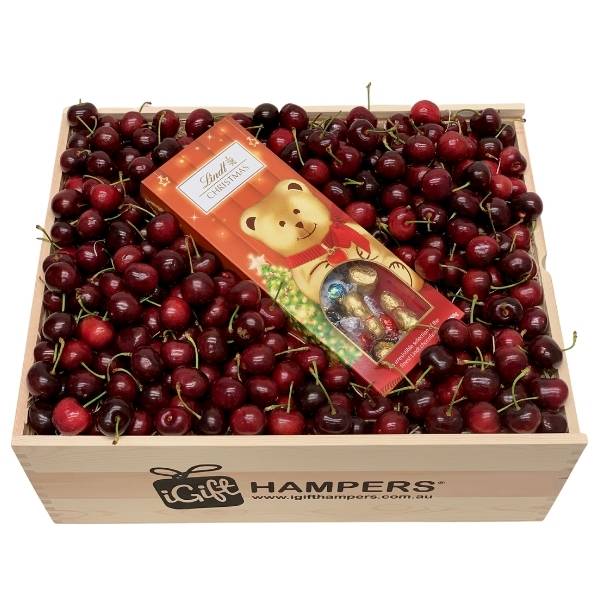 We Know Getting Christmas Gifts for Everyone Can Be a Stressful Time
Christmas is just around the corner. Have you started thinking about what to get your friends, family, and colleges, yet? Every year our shopping list seems to get bigger, and we don't want to give just any old gift to the important people in our lives. Getting perfect Christmas gifts for everyone can be overwhelming and time-consuming. But what if we said we had an excellent solution?
We have gifts for her, him, colleagues, friends and family members. We offer a full range of corporate gift hampers, with branding options. We offer unique product and service options. So contact our sales team to discuss a corporate branding strategy. iGift offering you a world class customer service experience.
Our brand management team will assist you to created brand images for your gift boxes or branded ribbon. Order our corporate hampers online and we will do the rest.
As well as our famous Cherry Hampers we have a range of non perishable gifts.
Beautiful gift ideas. Christmas Hampers, Wines Champagnes, Baby Gifts, Get Well Gifts, Birthday Gifts. So if you need a gifts Australia then take a look at our beautiful vast array of designer gifts.
We offer Gift boxes, gift baskets, tower gifts, unusual gifts all wrapped beautifully for your recipient.
Our products come from all over and we like to support locally grown and made products. We stock the gingerbread folk from the Blue Mountains, gourmet produce from Hunter Valley.
Looking for Hampers Australia then you have found the perfect site. If you want a chocolate box, wine box or fruit box.
Why Our Christmas Gift Baskets Will Solve All Your Worries
Hundreds of different Christmas gift hampers, endless customisation options, fast nationwide delivery - that all sounds great, right? We believe in offering our guests a one-stop shop for their Christmas needs, quality products, and the sublime service to match. Let's go into a bit more detail about how we'll solve all your holiday needs!
They are the perfect pamper hampers that illuminate the festive season!
There's nothing quite like a Christmas gift that pampers its recipient. Browse our hamper collections, and you'll find a wealth of possibilities that bring the festive season to life! Gorgeous cherry hampers are brimming with flavour, food hampers with all the favourite Xmas goodies. Not to mention luxury self-care products to give anyone a resonating holiday glow. There's even a Gingerbread House and Decoration Kit to really get into the Christmas Spirit
You can spoil your loved ones with gift baskets packed with gourmet food and wine.
Imagine the look on their faces when they're treated to a lovely bottle of Taylors Estate Shiraz and a packet of delectable Italian Baci chocolates? Maybe Pudding Lady Christmas Puddings and Cakes? We make all our hampers to give recipients the widest smiles and help our gift-givers look like the heroes on Christmas. Whatever flavours tickle their fancy, we have a beautifully arranged hamper just for them.
We deliver Australia wide and even offer same-day delivery in some locations.
We take delivery seriously. iGift understand how important it is to get gifts to places by a specified time and date. You can get your hampers delivered Australia wide, with some same-day delivery options available in cities like Sydney or Melbourne. Never stress about your gifts not getting there in time for Christmas. Just a few clicks to choose your hampers, and we can take care of the rest.
Tick your clients off the gift list with corporate Christmas hampers they'll adore.
Corporate gifting has become an integral part of our professional lives, and no one understands that more than ourselves. When we're tasked with finding Christmas gifts for our treasured clients and partners, it can be challenging to find something everyone in a team would enjoy. iGift are vastly experienced in the art of corporate gifts. We pack them full of goodies that will help your company be remembered, laden with your corporate branding.
Our customisable gift baskets will give your family and friends a holiday season to remember.
We believe in making an endless world of possibilities in Christmas gifting a simple process. You'll marvel at how straightforward it is to build a customised gift basket perfectly tailored to friends and family on the iGift website. Create the most memorable holiday season with gifts featuring all the luscious food, drink, and luxury items you can muster - all wonderfully arranged, of course!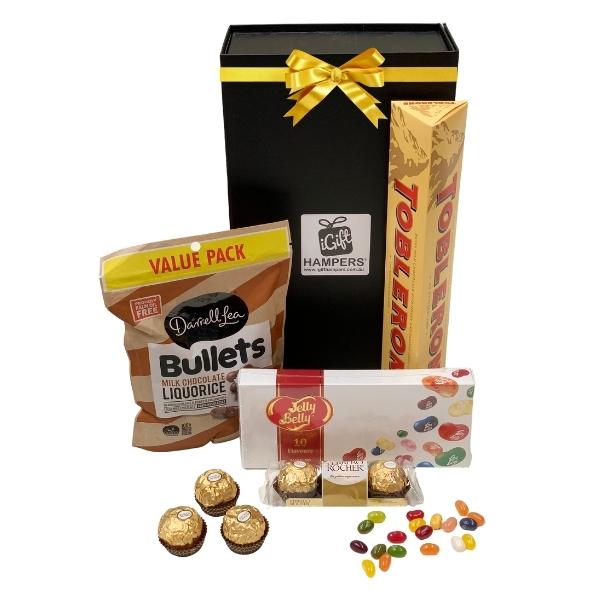 We offer bulk orders to sort out your gift list with beautiful Christmas gift hampers in a few simple clicks.
Christmas is a magical time of year. However, we know you take one look at your lengthy gift-giving list and let out a hearty groan! Don't fret, we have a quick solution to sorting out all the people you need to give gifts to this Xmas. We specialise in bulk orders, so you can send fantastic gifts to your friends, family, and colleagues in a fraction of the time.
If you're looking to impress with a bit of luxury, you won't find more exceptional foods than in our Xmas hampers.
The holiday season is a time of year where everyone deserves a bit of luxury in their lives. Trust us, we know what makes a luxury Christmas hamper! Give one of our gift baskets, and your recipients can gorge on the most delectable treats. Find food hampers with vibrant seasonal fruits, chocolate hampers to satisfy that sweet tooth, and so much more.
We have endless options of Christmas gift hampers suited to everyone.
We make an art form out of Christmas gift-giving, offering our guests a plethora of options for Christmas gift hampers. Get all your shopping done in one place, where we have brilliant hampers for mum, dad, children, friends, colleagues, and anyone else you need to give a gift to. We know that nothing, but the perfect gift will do - that's why we're here to help!
If you still can't decide, we have gift cards for your loved ones to create their own hamper, too!
Even though there are plenty of gift baskets available, you still may not be sure which one they'd like best. We have gift cards of different values where recipients can pick and choose their very own gift basket. Don't worry, all the gift cards are beautifully presented, so they will suit the Christmas present exchange on the day.
iGift Has All Your Gift-Giving Needs Covered This Holiday Season!
Have you ever wanted to enjoy the festive period more and stress less about gift-giving? That's why it is here for you. We are passionate about creating gift baskets and hampers that people love, and we're always excited to help curate the perfect Christmas for our customers. Let us help make these upcoming holidays memorable and keep worries to a minimum. Discover our Christmas gift hamper collection today!
Recent Posts
The holidays are approaching, so we're here to tell you once again why you can settle on gift boxes …

Are you hearing the 12 days of Christmas echoing everywhere you go? Yep, it's probably that time of …

iGift Answers All Your Questions as to Why We Are Your One-Stop-Shop for Gift Ideas this Christmas!W …