Which is the best online gift delivery service? - We are of course!
Let iGift Be Your Guide in Top Quality Christmas Gifts These Holidays.
It's that time of year again! While Christmas is one of the most exciting, festive, and adoring times of the year, there's an aura of stress that surrounds the occasion. That comes in the form of realizing you've got an extensive list of people that you need to get presents for. Where do you possibly begin to look for luxurious and meaningful gifts?
iGift are experts in gift-giving - especially for the holiday season! Let us walk you through some top-quality gift ideas we know all your recipients will love.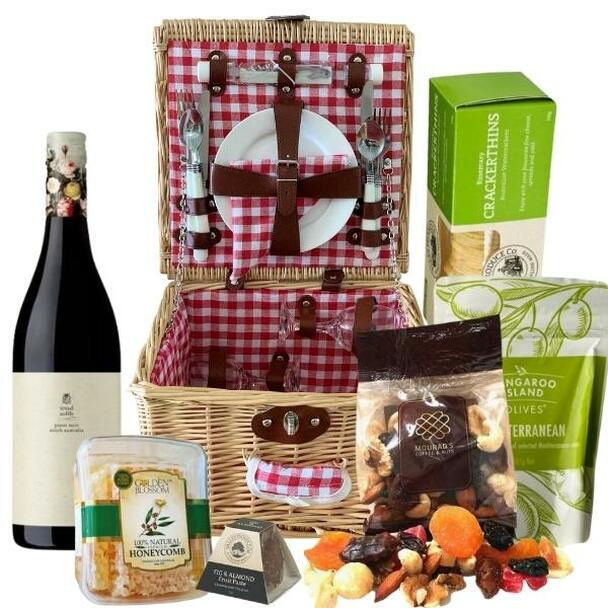 How Can Our Gourmet Gift Basket Light Up a Loved One's Life this Christmas?
We specialize in the art of gift-giving. There's nothing that makes us happier than seeing the smile of a person after they've received their perfectly tailored gift. That's what inspires us to curate the most magnificent gift boxes possible. We're out to spark joy with the unbelievable arrangements and complementary flavours, sourcing the most exquisite food, drink, and self-care products around.
Finding the perfect Christmas gift for your loved ones is always a challenging year on year. We need something that shows how much we love and care for them. It's an emotional process that sometimes becomes stressful as you're not sure what to get. We are Australia's premier gift shop for that very reason. Our team understands what it takes to make a perfect present. Let our Gourmet Gift Baskets light a smile for these upcoming holidays.
Here Are Some Good Ideas for Hampers and Gift Baskets for the Upcoming Holidays
iGift has a complete range of fantastic gift baskets and hampers. We're proud to be serving Australia as a one-stop shop for presents throughout the year, but especially Christmas time. If you're stuck for gift ideas for your loved ones for the holidays, we've got a few ideas to help kickstart and complete your shopping.
Cherry Hampers
Our Cherry Christmas Hampers sits at the pinnacle of gourmet food. That's why they make such excellent Christmas gifts. These gift boxes have been at the heart of the iGift catalogue for a long time, being presents that tickle all the senses in the right way. If you're looking for the most flavourful hamper box for a special occasion - explore our Cherry Hampers options.
When the Christmas holidays come around, that can only mean one thing - it's the cherry season! The Cherry Christmas Hamper not only services traditional values, but it's the perfect gift for anyone that loves to indulge in the sweet, natural flavours of this remarkable fruit. You can't go wrong with our gift box breaming with luscious cherries!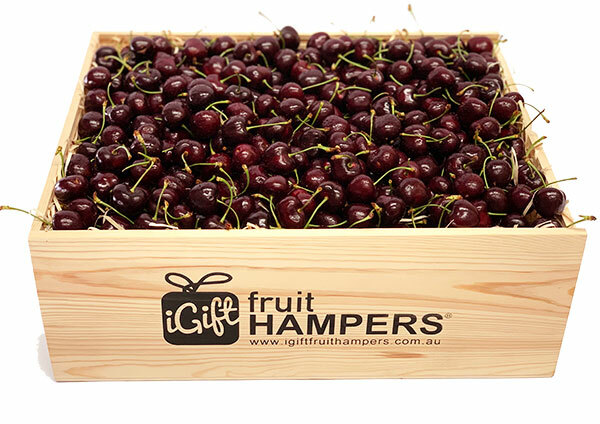 We all like to satisfy our sweet tooth over the holidays, so why throw in a few luxurious Ferrero Rocher chocolates? The golden sparkles of the wrapping bring the Cherry Christmas Hamper alive even more, highlighting these striking red colours. The rich flavours of the chocolate paired with the mouth-watering cherry tastes are a match made in heaven.
What showcases a celebration like a nice bottle of champagne? Pair up your fruity flavours with a glass of Moet to make the recipient of this hamper feel like a King or Queen this holiday season. We curated this hamper to ooze luxury for that significant person, and it's turned out to be one of our most popular gifts!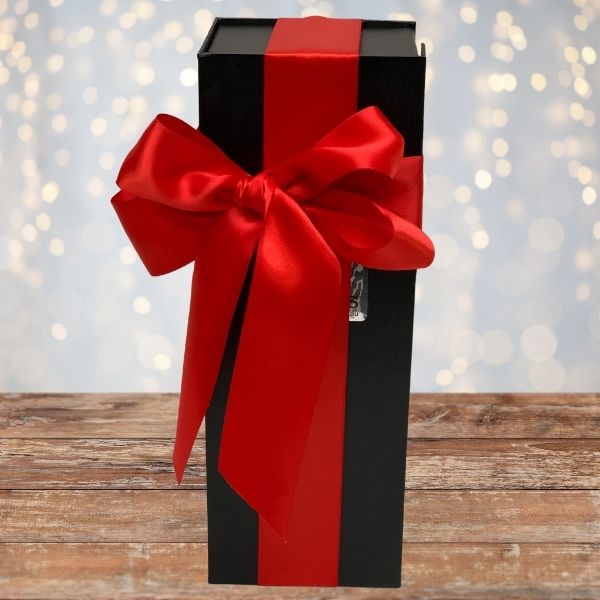 Christmas Gifts
Finding the perfect Christmas gifts for friends, family, and colleagues is by no means a straightforward task. If you're lost for ideas, discover our favourite Christmas hampers below that recipients will surely love. Whether it's a little gift or a massive offering, here are a couple of our most popular Xmas gift boxes.
Sometimes the simplest gifts are the most meaningful. If you're looking to keep things straight in your gift exchanges, the Darrel Lea Christmas Gift Bag is an excellent choice. This stocking stuffer is packed with delicious sweets and treats that span all flavours of the spectrum. This bag makes a fabulous corporate gift, too!
Do you want to inject more flair into the Christmas spirit? The Pudding Lady Christmas Cake Fruit Basket perfectly captures the sights and tastes of the holiday season. Recipients will adore the gorgeous arrangements of seasonal fruits paired with the traditional Pudding Lady cake. The hamper is the epitome of Xmas extravagance!
Maybe your loved one deserves something that shows just how much they mean to you? The Christmas Fruit Tower serves as a sizeable representation of your love, stacked with delectable fruits, chocolates, and treats. It's quite the sight to behold and jaw-dropping for any lucky person to receive one over the holidays.
Gift Baskets
If you're looking for something not so aligned with Christmas, we have fabulous hampers that make up our collection year-round! We don't forget those gift recipients who have their birthdays over the holiday season, too. You can find some wonderful birthday hampers in our gift baskets range, as well as some of our most famous boxes!
Our Fruit Gift Basket with Native Flowers is undoubtedly one of iGift's most popular hampers. Why do you ask? The gift amalgamates all the best of what our native Australia offers. The visual feast includes dazzling local flowers in a flash of colour, along with exquisite fruits that warm hearts, minds, and souls.
Never fear! There's a reason why we curate some of the most enticing chocolate-based gift hampers in the country! Do your recipients have an unbridled love of chocolate? The Deluxe Chocolate Fruit Basket is just the ticket. We incorporate the tastiest chocolates from around the world, complementing their rich aromas with some delectable fruits.
Is your recipient a little more adventurous? Naturally, we have gift boxes to satisfy curiosities and spark memorable experiences. Our Gin Gift Hampers are a party in a box, featuring a wide array of masterfully-crafted gins, tonics, and a dedicated pairing of nibbles with them. Let the good times roll with this hamper!
Wine Gifts
If your recipient is over the age of 18, perhaps a gift of wine will make the holidays merry! We arrange gift boxes around some of the finest wines you could possibly find in Australia. Giving a Wine Gift Hamper is a toast to the health and happiness of the recipient and a fabulous way to kick off the Christmas celebrations!
Red wine lovers will fall head over heels for our Red Wine Hamper Gift, featuring a gorgeous bottle of Pepper Tree Merlot. The plummy flavours underlined with a touch of oak gives the basket a trove of gift-worthy flavours. The fruits surrounding the wine provide an endearing visual cradle to raise the beverage's profile.
Of course, we can't forget our friends and family that prefer a glass of white! The Petaluma Croser Blanc de Blancs Gift Hamper is what it sounds like - it features the white of whites, the best in town. This sparkling white paired with seasonal fruits will make this Christmas Day one to remember.
It doesn't matter if you prefer red or white, champagne always proves to be a winner! We've taken the most luxurious bottle of Bollinger champagne and built an extraordinary gift box around it. If you really want to get the festivities rolling, this gift hamper will undoubtedly do the trick. Treat them to a fountain of luxury these holidays!
Enjoy All These Award-Winning Gift Boxes with Delivery Services Australia-Wide!
Now that you've got some ideas to tick off that gift list, you can get excited about the holiday season! There's no need to stress or fuss any longer - we've got you covered. Choose which gift hampers you'd like, and leave the rest to us. Our award-winning gift boxes are delivered Australia-wide, with same-day delivery available in cities such as Sydney and Melbourne. Remember, our dedicated customer service is always available to answer any questions about our products, ordering or delivery. We're here to make your Christmas magical!
Recent Posts
The holidays are approaching, so we're here to tell you once again why you can settle on gift boxes …

Are you hearing the 12 days of Christmas echoing everywhere you go? Yep, it's probably that time of …

iGift Answers All Your Questions as to Why We Are Your One-Stop-Shop for Gift Ideas this Christmas!W …