MOTHER'S DAY 2017 | GET WELL SOON | NEW BABY GIFTS
HIGH QUALITY AUSTRALIAN GIFT BASKETS AND HAMPERS FROM IGIFT FRUIT HAMPERS®
Looking for an ideal gift that can be delivered Australia wide? Choose the quality and convenience of online Australian Gift baskets and hampers from IGift Fruit Hampers®!
IGift Fruit Hampers® specialises in gift hampers and baskets that are individually made and hand decorated to order. We deliver each unique hamper creation Australia-wide to major capital cities including Brisbane, Sydney, Melbourne, Canberra, Gold Coast.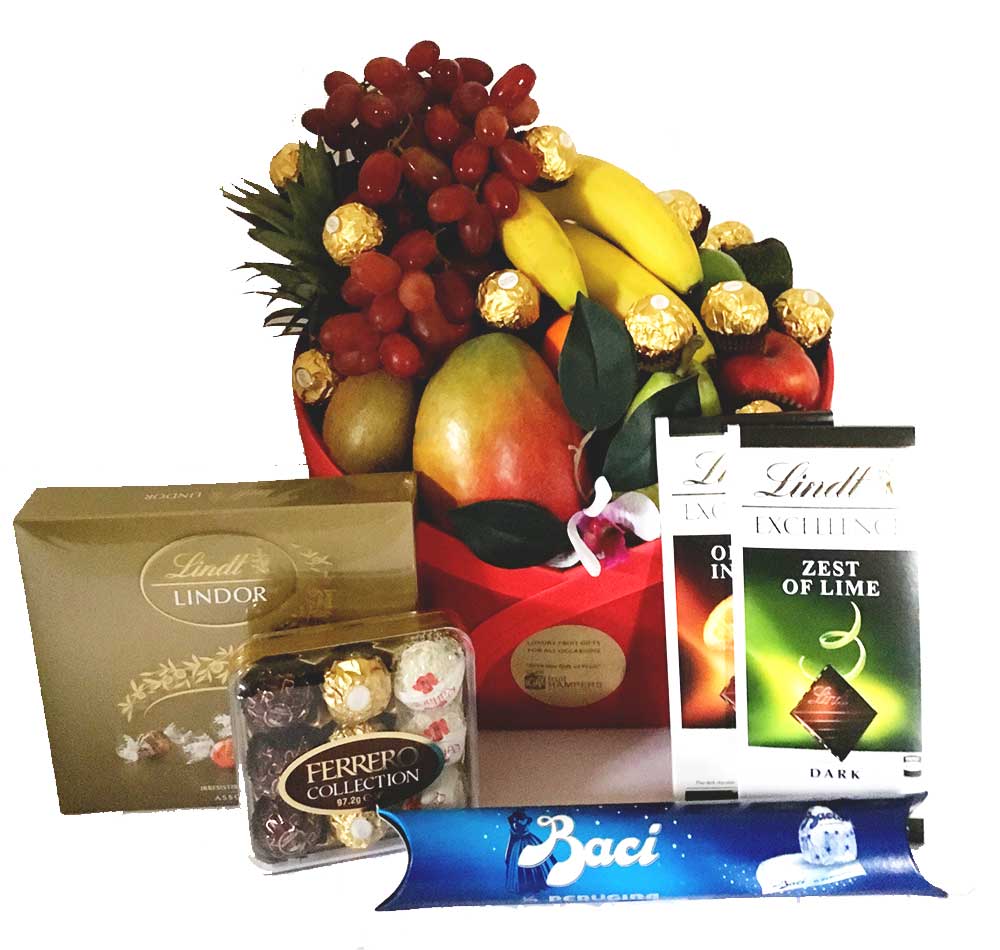 As a local independent business, we take pride in supporting fellow Australian businesses by using the best of Australian gourmet products in every hamper we make and deliver. We are also well known for our leading customer service as can be seen by our extensive list of positive Word of Mouth reviews and repeat corporate customers.
All iGift Fruit Hampers® gifts are created in handmade gift boxes and hand decorated just like a personal gift wrapped yourself. With a successful history of delivering gifts and hampers to all Australians since. iGift Fruit Hampers® continues to produce high standard gifts that are perfect for all special occasions.
1300 691 296
AN UNLIMITED CHOICE OF GIFT BASKETS AND GIFT HAMPERS ONLINE
If you are looking for the perfect last minute gift for a family member or friend, or the ideal present for a special occasion, the easiest solution is to jump online and check out what IGift Fruit Hampers® has to offer. We have a fantastic range of delicious and delightful hampers that are ideal for people of all ages and tastes.
Our extensive range and choice of gifts will suit various tastes and occasions. Some occasions and gift baskets we cater to include:
We are also happy to tailor make hampers for that special occasion and can work with you to create the hamper or basket of your choice. For a closer look at our selection of gift hampers, click on your desired category on our website. Once you have had a browse and found the ideal gift hamper, follow the on-screen instructions for a simple and hassle free purchase process. It is so easy to have a gift basket delivered by IGift Fruit Hampers®!
WE CAN HELP YOU FIND THE PERFECT GIFT
At IGift Fruit Hampers®, we select the finest quality ingredients to go into each of our baskets so that each bite or sip taken is thoroughly enjoyed. From nuts, sweet treats, bubbly, wine and keepsake gifts, we have it all and they are beautifully packaged for you.
We have a huge range of baskets to choose from. However, if you don't find the very thing you are looking for, don't let that stop you. We have 'chocolate hampers' 'lollies and sweets' 'spirits, port and liqueurs' sections and more for you to browse.
Fear not; if you still don't find what you're after, why not contact us or send an enquiry online to find out if we can custom make your perfect gift to match your budget? We proudly offer a great service to many regular clients and will gladly welcome any enquiries you have regarding our products and how we can help you.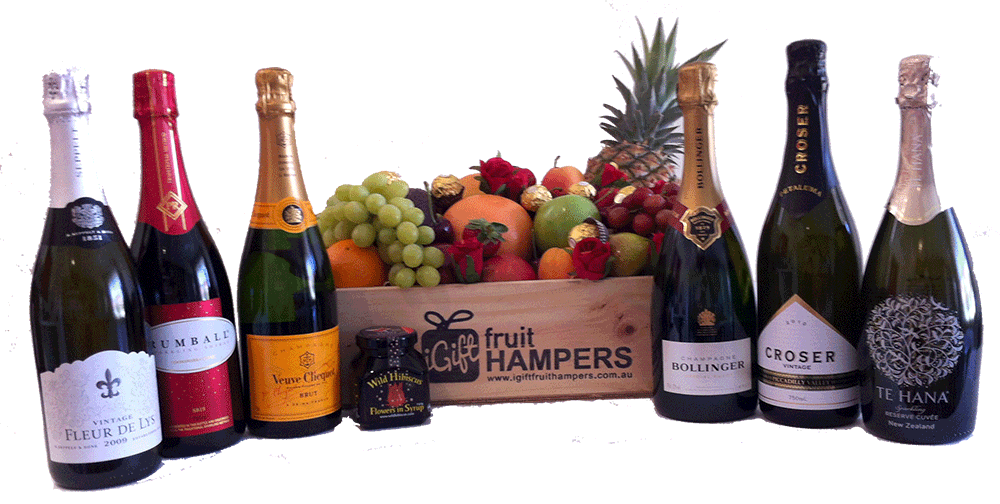 CHOOSING A GIFT FOR ALL TASTES AND OCCASIONS
There is no need to be stumped for great gift ideas with the wide range of gift hampers to consider from IGift Fruit Hampers®. There are hampers with nibbles and hampers with drinks, hampers with keepsakes and hampers with useful household items. The hampers available are sure to please everyone. You name that delectable treat; you can find a hamper that has it. Nuts to nibble, chocolate to devour, a bottle of red to savour or champagne to swish.
ONLY THE VERY BEST AUSTRALIAN MADE PRODUCTS
At IGift Fruit Hampers®, we are proud to support Australian businesses by filling our hampers with high-quality Australian made products. Not only are the gifts in our hampers of the highest quality, but you will also be pleased to know that you are supporting Australian made products by purchasing a hamper with us.
AWARD WINNING CUSTOMER SERVICE
An award winner in customer service, IGift Fruit Hampers® takes pride in our high standards of customer care. We service many corporate and private clients, and our measure of success can be seen with the high number of return customers and testimonials we receive every week. With an extensive and loyal client base, IGift Fruit Hampers® has fast become Australia's leading gift hamper service.
AUSTRALIA WIDE DELIVERY
IGift Fruit Hampers® provides nationwide delivery to all capital cities. So whether you are based in Sydney and need to send a mother's day hamper to Melbourne, or if you live in Brisbane and are hoping to send an extra special birthday gift basket to Gold Coast, IGift Fruit Hampers® can get the perfect hamper to that very special person easily!
The capital cities that we deliver to include:
Our delivery fee for express next business day to all metropolitan areas is a flat $12 per hamper. All gift hampers are delivered safely and securely in cardboard packaging or fruit boxes so you can trust your gift hamper will arrive in one piece. If you need it today or have a few to send please call us on 1300 691 296.
FIND THE PERFECT GIFT - HASSLE FREE!
If you are overwhelmed by the stress of finding gifts this holiday season, or if you are fretting over what to get for a friend or family member's birthday, stress less with IGift Fruit Hampers®. Choose the perfect gift online at IGift Fruit Hampers® and follow the on-screen steps for a quick and easy purchase and delivery process. For that personal touch, all hampers also include a gift card with a personal message from you!
You can also trust that the hamper you pick will be full of fresh fruit when it is delivered. We always keep to the highest standards to ensure your loved one is delighted by the gift they receive.
Whether you are buying a gift for a family member, friend, or colleague, don't miss out on finding an extra special gift by choosing the convenient and hassle free choice of individually wrapped gift hampers delivered from IGift Fruit Hampers®.
AVOID HECTIC SHOPPING CENTRES BY BUYING HAMPERS ONLINE
The beauty of gift hampers is they can be bought online. Not only does this mean it can be done from the comfort of your own home or office, it means you beat the shopping rush. The shops are notorious for being a crazy place to be at Christmas and Mother's Day. Along with the car park shuffle and possibly taking more time to find a park than you can spare, you have to fight the crowds indoors. People pushing and jostling past you and then waiting in line to be served can spoil your spirit and make shopping for gifts less fun. By buying your hampers online you not only avoid all the unnecessary drama, but you also save fuel and therefore, money. Saving fuel, saving time, avoiding stress, why would you buy your gifts any other way?
DON'T MISS OUT ON YOUR IDEAL HAMPER
Holiday season hampers such as Christmas hampers can be in high demand, so be sure to get in quick to pick up the best hamper this holiday season! It is always important to get in early to place your order for gift baskets to make sure you don't miss out on the best gift hampers we have available. Follow us on social media and stay up to date on our website to check the availability of our hampers.

THE IGIFT FRUIT HAMPERS® DIFFERENCE
With so many companies selling gift hampers across Australia, what makes IGift Fruit Hampers® so special?
Australia Wide Delivery
Many online gift hamper companies only service their local city or state, however at IGift Fruit Hampers®, you have the flexibility to deliver your hamper across the country. No matter if you are located in Sydney for example and your giftee is located in Melbourne, we can send your hamper interstate with ease on your behalf. Our edible fruit gifts can be sent to the following states: NSW, QLD, ACT & VIC.
Gift Card with Personalised Message
To add an extra special personal touch, we give you the option to write your own personalised message that will be included on a gift card attached to the gift hamper.
Australian Made and Owned Products
Whether it be gourmet foods, chocolates, wines or organic beauty products, all of the products in our hampers come from all over Australia, made by Aussies and owned by Aussies.
Tailored Gift Hampers
Can't find a gift hamper that matches the tastes or interests of your loved one? We are more than happy to custom make the ideal hamper for your friend, family member or colleague. Feel free to contact us to discuss your ideas and we can make your ultimate gift hamper ideas come to life.
Award Winning Customer Service
IGift Fruit Hampers® cares about turning your gift ideas into a reality. With award winning customer service, you can trust that you will receive the very best service from us when choosing the ultimate gift hamper for any occasion.
PURCHASE A GIFT BASKET OR HAMPER FROM IGIFT FRUIT HAMPERS® TODAY!
Choose the easy and hassle free gift option for the next birthday, holiday seasons or special occasion with IGift Fruit Hampers® gift hampers. There is no need to sacrifice quality for convenience when IGift Fruit Hampers® provides the very best Australian made products in beautiful individually wrapped gift baskets and hampers.
With next business day delivery available nationwide, don't hesitate to look through our extensive gift hamper range and start on your journey to find the perfect gift right away!
If you have any questions or if you would like to discuss your options for a tailor made gift basket, give us a call on 1300 691 296, send us an enquiry form on our contact us page. With simply beautiful gifts online, when looking for the perfect gift, you can't go wrong with IGift Fruit Hampers®.
Recent Posts
Welcome to our range of Fruit and Nut BasketsLuxury Fruit Basket + Gourmet Mixed NutsSmall Frui …

When you are shopping for the perfect gift for somebody you care about, a fruit basket may …

We are often asked the following questions:Where can i get a fruit basket?Where to buy fruit baskets …