Baby Gift Ideas - New Baby Boy and Girl Gifts
Are you struggling to find the best gift to give expecting or new parents? Shopping for baby gifts is never easy - you have to think of something practical, pretty, and that lasts all in one package.
Have you considered a silicone feeding set? It's a gift that ticks all those boxes and is a surefire winner for parents everywhere. There are a few reasons why this is the perfect present, and we'll explain why in this article!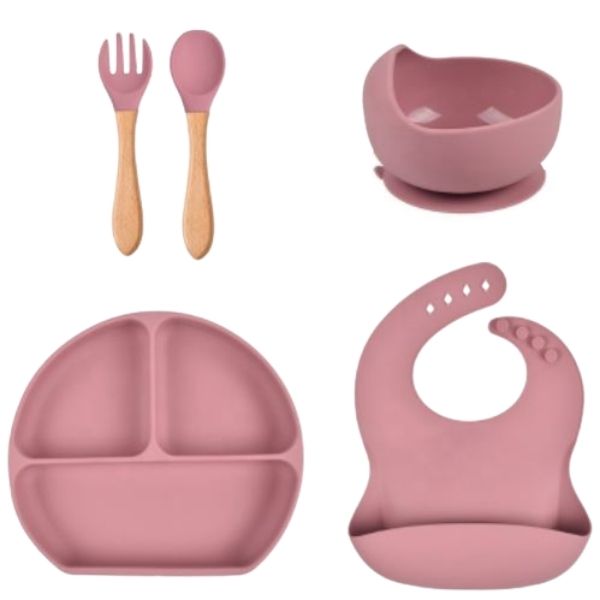 What is a Baby Silicone Feeding Set?
A baby silicone feeding set is a revelation in mealtimes for young children that tend to be messier and fussier eaters than the rest of us. It's a set that includes utensils, bowls, bibs, and plates dedicated to solving all the problems commonly associated with feeding toddlers. Those include plates and bowls everywhere, safe utensils, post-meal mess, and other mealtime nuances. The silicone baby bibs are great as you just wipe the spills off.
Parents who have a task on their hands can benefit from the well-designed baby silicone feeding set during meals. That's what makes these sets such perfect gifts if they don't have one already. Imagine turning one of the more challenging parts of parenthood on its head and making it more enjoyable. Mum and dad would certainly be incomplete gratitude!
So what's inside these baby silicon feeding sets that make them unique?
What's Inside Silicone Feeding Sets?
This food-grade silicone set can make that dreaded toddler feeding more effortless than ever. But what's included to make everyone's lives easier? Inside each set includes:
Feeding and training utensils (spoon and fork)
Suction bowls sets
Suction plates
Baby bib
The wooden utensils are safe, so the baby can learn to eat without injuring themselves. The bowls and plates stick to the table or surface so the babies can't knock them off, where the bib catches any rogue food that doesn't quite make it to their destination. The crevasse in the bib can even be used for snacks or hand-held foods to eat from!
Each set is BPA free, easy to clean, and dishwasher safe, making them the most toddler-friendly bowls and plates. Parents will thank you as feeding baby foods or solid foods no longer has to be a mess and an enjoyable bonding experience between the mother, father, and child. Their composition makes it easy to travel with them; stick them in your nappy bag and use them anywhere.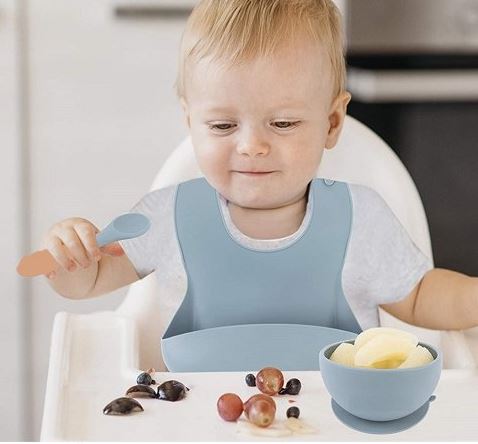 Is a Silicone Baby Feeding Set a Good Gift for a Newborn?
One of the biggest questions about a silicone baby feeding set is whether it's a good gift for a newborn baby? While the groups are intended for children who are just starting to move onto solid foods and not newborns, let's not forget that kids grow up fast! Before parents know it, they'll be needing a set just like this one to help feed their little ones for a few years to come.
So if you're looking for a gift to celebrate when the baby is born, you'll have a winning present even though the kids can't use it right away. It's an investment for the future of mealtimes, where parents will understand how useful it is as soon as the little ones become toddlers.
Yes, a silicone baby feeding set is a good gift for newborns. And if you're still not sure, we've got a few reasons why they make excellent presents!
Here are 5 Reasons Why Silicone Feeding Sets are Great Gifts for Parents
There are multitudinous reasons why silicone feeding sets could be one of the best gifts parents have ever received. We've hand-selected some of the preferred few to showcase why you might want to pick one as your next gift.
1. There's increased comfort for the child.
New parents know how hard it is to feed their newborns, especially late at night. Silicone feeding sets can provide your newborn with more comfortable for yourself and the little ones. When the baby starts solid foods, the bowls and bibs allow for easy scooping with non-slip surfaces, ensuring that delicious food gets eaten every minute!
2. Take the stress out of feeding your little ones.
Mention mealtimes to parents of a toddler, and you might see a frown sprawl across their face. It's no secret that feeding time can be tricky as things get messy, not all food gets eaten, and sometimes the little ones are determined to kick up a fuss. The silicone feeding sets ensure the mess is minimal, food is easily accessible, and kids can interact with the utensils, making meals more entertaining.
3. Never have to spend ages cleaning up again!
The silicone baby plates and the baby bowl are simple to clean up - just run them under a tap or dishwasher. They are tested to be perfectly safe in warm water environments, with surfaces that make easy cleaning of even the stickiest foods. What a sigh of relief that you don't have to spend your life cleaning after mealtimes!
4. No more posture concerns.
Silicon feeding sets are ergonomic and stick to nearly all typically found surfaces like high chairs, countertops, and tables. The suction on the pieces holds the bowls and plates on flat surfaces, so you can place them in comfortable positions for the baby to eat. You won't have to worry about any lousy posture forming with complete control over the parts of the feeding set.
5. No risk of health hazards or injuries.
And to follow the ergonomic qualities of the silicone feeding set, they are accredited as one of the safest choices for mealtimes. There are no risks to health or injuries with the piece, using no BPA, lead, or phthalates. Every product is tested for quality and meets health and safety standards, so you don't need to worry when using the set to feed your baby.
So, are you convinced yet that a silicone baby feeding set is the ideal gift choice for parents? You might be wondering where you can get one (or a couple!).
Where Can I Find Silicone Baby Feeding Sets?
iGift Australia is one of the largest, most trusted purveyors of hampers and gifts in the nation, including newborn and baby gifts. They take pride in being the ultimate resource for Australians to find gifts for any occasion - and if you're looking for a silicone baby feeding set, look no further.
iGift stock the sets in three different colours of your choosing, and they can be paired with other items in gorgeously formed hampers. Getting that perfect baby gift together can be challenging, but this company makes the process seamless. Find the silicone baby feeding set you're after right here!
Which Baby Feeding Sets Make the Best Gift?
iGift Australia has three variations of the Silicone Baby Feeding Sets that suit either that gorgeous baby girl or handsome baby boy.
- Silicone Baby Feeding Set - Pink
The pink version of the Silicone Baby Feeding Set would be the most obvious choice for a girl. These beautifully designed sets will be the perfect present for new parents or little ladies that will help them eat easy and well for many years to come.
- Silicone Baby Feeding Set - Blue
If you're looking for an excellent gift for a baby boy, why not get the parents a feeding set they'll cherish forever? There's no more practical or fantastic gift to ensure the young man is well fed, and mealtimes are a breeze.
- Silicone Baby Feeding Set - Yellow
Are you looking to shake it up or want a different colour outside the standard? The yellow set can be considered the more neutral option of pink or blue. Whatever the case, the yellow version is just as brilliant as the others!
Are There Any Other Baby Gift Ideas Available?
iGift Australia makes adding more baby gift ideas or creating a special hamper a straightforward process. They also stock many other baby gifts should you want to add more to your silicone baby gift set. Or you could browse the extensive collection to give something different entirely. Other babies or newborn presents in their inventory include:
Dedicated Baby Gift Hampers
Children's Books
Teddy Bears and Soft Toys
Clothing
Rattles
Many More
Visit the website, and you'll understand why you'll never fall short of gift ideas for babies!
Why Choose iGift Australia for Your Next Newborn Gifts?
Suppose you've never visited iGift Australia before. In that case, there are a few reasons why they're considered the number one gift platform in the nation. You can explore hundreds of customisable hampers, baskets, and items perfectly tailored to any personality type or occasion. Customers continue to trust them as their gift outlet because:
Premium customer service
High level of flexibility in gifts
Customisable messages for the recipients
Some of the most visually beautiful hampers on the market
Make gift-giving easy
And those are just a few reasons! Contact the friendly team today if you need any assistance or support purchasing newborn gifts and beyond. Otherwise, start thinking about how you'll light up those new parents' faces when giving your silicone feeding set gift.
Recent Posts
Baby Gift Ideas - New Baby Boy and Girl GiftsAre you struggling to find the best gift to give expect …

iGift HampersiGift Fruit Hampers is a gifting company that specializes in delivering themed gift ham …

The holidays are approaching, so we're here to tell you once again why you can settle on gift boxes …